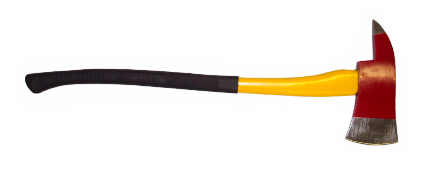 6 Pound Pickhead Axe with Fiberglass Handle
Probably the most recognized hand tool used by fire departments, the pickhead axe is indispensable on a fire scene. Our axe has a six pound head as compared to the hardware store variety which usually weighs in at around four pounds or so. A four pound head is good for use around the house or farm where the user might have to swing it for a few hours. However, fire departments need maximum force and cutting power for a short time. The additional weight ensures deep cuts with every swing. The pick (actually referred to as a pall) allows the user to pry through plaster laths, dry wall, etc.
5 Pound Flathead Axe with Fiberglass Handle
The flat head axe is used where chopping is the primary need. This axe feels great in your hands and swings well. The five pound head gives the user added force over hardware store variety axes yet will not wear the user out in a short period of time.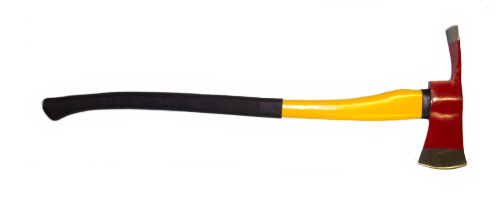 Pulaski Fire Axe with Fiberglass Handle
Primarily used in the forestry service, this versatile axe has many applications. Besides the obvious use as a regular axe, the blade on the back of the head is excellent for cutting through underbrush, roots, and even as a prying surface. The four pound head makes the unit light enough to carry across country to fight the difficult to get to fires.