(Items listed on this page are non-stock items.)
The containment devices below are designed to contain the shrapnel of a cylinder that fails while being filled. Additionally, they direct the blast of air away from the operator. To be fair, air cylinder failures are rare. However, the destructive force of a failed cylinder can be quite powerful and lethal.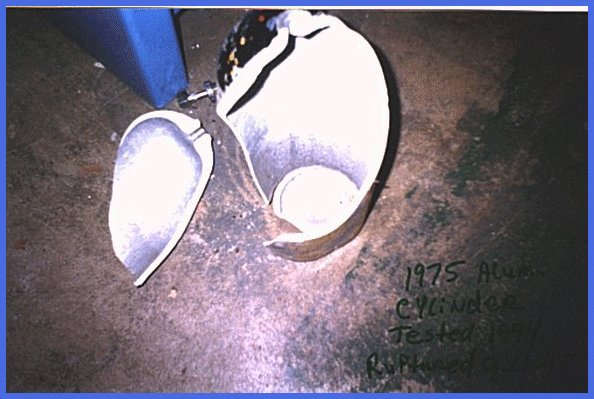 Luckily the cylinder above was in a containment device. That fact might have saved the lives of two firefighters.
PLEASE NOTE: The pictures below show the combination door/cylinder holder opened to a 90 degree angle. This is an optional feature and is only available on units that will be installed on an apparatus. The unit must be bolted down. Actually, this feature is not very desirable when the unit is mounted at floor level because it makes the operator stoop over to load and unload cylinders.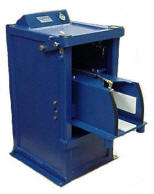 HPE4500-1
This unit accommodates a single cylinder and can be used in your station or mounted on a truck and used as a mobile system. It is rated for pressures up to 4500 PSI. A safety interlock system prevents the user from filling the cylinder until the door is latched in the closed position. The fill hose fitting is CGA-347 so it will fit both high pressure (4500) and low pressure (2216) SCBA cylinders. A bleeder valve is conveniently located at the filler fitting.
The cylinder is placed in the tilting holder which contains teflon slide blocks to prevent damaging fiber wrapped cylinders. Once the filler adapter is snugly attached to the cylinder, the holder/door is then tilted into the containment device. The locking bar must then be put into position which prevents the holder/door from opening even if the cylinder should fail. Once the locking bar is lowered, it triggers the interlock system to allow air to flow to the cylinder being filled. This unit and it's dual cylinder model are both third party certified as meeting NFPA Pamphlet 1901, Standard for Automotive Fire Apparatus, latest edition.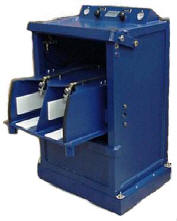 HPE4500-2
This unit has all of the same features as the unit pictured above plus it will accommodate two cylinders to be filled. Additionally, each cylinder has a line valve located on the outside of the unit. The valves allow the operator to fill a single cylinder or, shut down a cylinder during a filling operation and still fill the other one.