Newton Dump Valves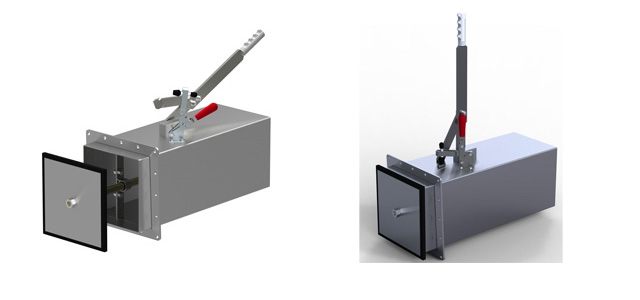 The first large opening, fast flow water valve was introduced by A. H. Stock Manufacturing as the Model 1010. It was designed with a plunger-type back plate and outperformed anything available at the time. In testing the valve has shown a flow rate of 2940 gallons per minute by emptying a 2500 gallon tank in 42 seconds. The Newton Kwik-Dump Model 1010 ultimately set the standard for all future quick dump valves.
Newton Kwik-Dump Valves should be part of every new tanker in your plans, and they can be readily adapted to tanker trucks already in use. Instructions and templates are furnished with all Newton valves.
When there's a fire, every second counts. You'll be one step ahead at the scene of a fire, when you install Newton Kwik-Dump Valves.
Available accessories include elbows, extensions, telescoping extensions and more.
Valves can also be air or electrically actuated.
Maintenance Notes
All moving parts require periodic lubrication. Valve must work freely by loosening and lubrication of all moving parts shown in diagram. Items 5 & 8 bronze bushing and brass link must slide free (no friction) & be lubricated. Items 12 & 13 bolts and locknuts have to be loose. Pivot pin needs lubrication and must work freely. The manufacturer recommends quality aerosol white lithium grease for lubrication.
Item
Qty
Description
Part #
1
1
Chute Weldment
1010W
2
1
Seal
101008
3
1
Backing Plate
101010
4
1
Support Plate
101009
5
1
Brass Shaft
101011P
6
1
Inter Tooth Lockwasher
3744-3780
7
1
3/4-10 Nut (Stainless Steel)
3733-3780
8
1
1.00" Pillow Block Bearing
1503-0001W
9
2
3/8-16 x 3/4" Bolt
3601-1030
10
4
3/8" Lockwasher
3643-1255
11
4
3/8-16 Nut
3633-1260
12
1
3/8-16 x 1.5" Bolt
3601-1030
13
1
3/8-16 Nylon Locknut
3636-1250
14
1
Handle Grip
101028
15
1
Gasket
101029B
16
4
Bolt Strip
101027-2.00
17
1
2 Position Handle
105016-2P
18
1
Lock
105013
19
2
3/8-16 x 1.25 Bolt
3601-1060
20
1
Spindle Assembly
3501-0019
21
1
Neoprene Cap
3501-0019