WILDLAND TOOLS
Reliable Fire Products tools for wildland fire fighting.


Fire Rake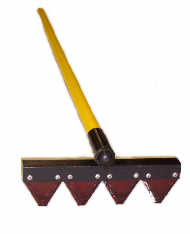 The old standby fire rake has finally gone through some changes. This rake by Reliable Fire Products is quite a bit different than its cousin. First, it has a fiberglass handle but, the big difference is in the teeth. This unit features serrated teeth and they are sharp. In fact, this is the sharpest fire rake on the market and are bolted on to allow field replacement. When the serrated teeth are combined with the tougher handle used by Reliable Fire Products the result is the finest fire rake we have ever seen at a very competitive price.



Fire Flapper


Even the "mud flap on a stick" has been redone by Reliable Fire Products. The wooden handle has been replaced with a thick wall, heavy duty fiberglass handle and the weak link where the handle joins the head has been beefed up. Amazingly though, the price is about the same as the competition.

McLeod Tool

The McLeod tool is primarily used in the Forestry Service. It features a 3/16" plate steel head that has been cut to form deep teeth. The handle is heavy duty tubing with a 1.25" OD and 0.9" ID for maximum strength to weight ratio. The head is attached to the fiberglass handle with two (2) spring pins to allow for field replacement. The back edge is sharpened at an angle that results in a durable edge. It is an excellent tool for clearing undergrowth, leaves and debris. The head can be rotated to expose the sharpened edge for light chopping and cutting. (This tool is also excellent in the garden.)