Able 2 FlashForce Mini-Bar
11.1400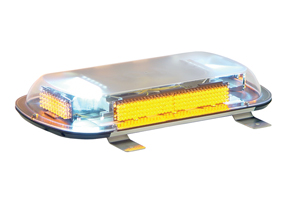 This is a very reasonably priced LED mini-bar. The two high-power LED modules are white light that is projected onto "V" shaped mirrors to provide clear flashing light from nearly any angle.
352 high-intensity LEDs and two 18W LED modules in each mini bar.
Low-profile design improves fuel efficiency.
Solid-state flasher has seven strobe-type patterns.
V-shaped mirrors enhance the LED modules and create a wider light beam for greater visibility.
UV-resistant polycarbonate dome with gasket.
Extruded aluminum base.
LEDs available in amber, blue, green, red and white.
Magnetic-mount models have a 15' straight power cord with a fused adapter plug with a POWER rocker switch and a MODE momentary switch, and four 90 lb.- pull magnets.
Made in the U.S.A.
Seven Flash Patterns
| | |
| --- | --- |
| 1. | Double Alternating |
| 2. | Quad Alternating |
| 3. | Quint Alternating |
| 4. | Double Simultaneous |
| 5. | Quad Simultaneous |
| 6. | MEGA Alternating |
| 7. | Random |