All of the valves on this page are equipped with 2-1/2" NST threads and are normally in stock.
Akron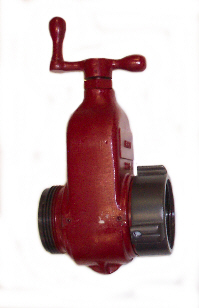 Style 2285 Gate Valve
2-1/2" NH inlet and outlet. The perfect non-rising stem hydrant valve if you are worried about water hammer from closing a valve too rapidly. This valve requires a full 21 turns to fully open from the fully closed position. The body is made of high quality aluminum with a maximum working pressure of 250 PSI.
Style 1828 Hydrant Valve
If water hammer is not a concern, this quarter-turn hydrant valve is fast acting. The valve is equipped with "Tork-Lok" which prevents water acting on the ball from moving its position. 2-1/2" NH threads on each end.
Reliable
Reliable model GV Gate Valve
2-1/2" NH swivel female inlet and rigid male outlet. Non-rising stem type gate valve requires multiple turns of the handle to fully open, thus preventing water hammer. Manufactured from aluminum so it won't weigh down your hydrant tool bag. Maximum working pressure of 250 psi.
Protek
Protek model 595 Hydrant Valve
2-1/2" NH swivel female inlet and rigid 2-1/2" NH male outlet. This quarter turn valve is made of aluminum.