A person's eyes are the last place to scrimp on money when buying protective equipment for your firefighters. That is why we only stock ESS goggles that are designed for the professional.
Goggles are quickly becoming popular in the fire service. People who have gotten something in their eyes at a scene, even though they had their faceshield down, are especially fond of them. Also, NFPA is promoting the use of goggles and may eventually standardize on them. Goggles offer the ultimate in protection by totally surrounding the wearer's eyes.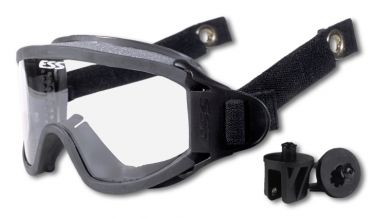 Structural Goggles IZ2

This is our best selling goggle. The strap system allows the user to store the goggles on the front or rear of the helmet or, the user can simply snap them off when they are not needed. The goggle can be used with or without the standard faceshield and even in conjunction with bourke eyeshields. The entire perimeter of the goggle is heavily vented and screened to maximize ventilation and minimize fogging.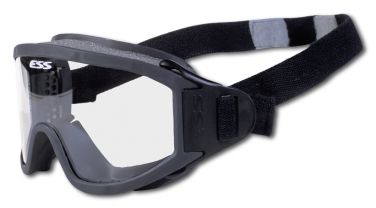 Structural Goggles IZ3

The same goggle as shown above but with a full head strap. The strap can be attached to the back of the helmet with velcro if desired.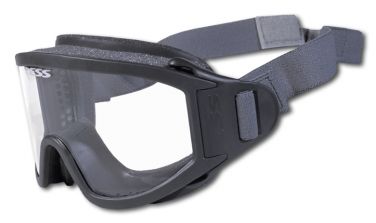 Wildland Goggles XTO

This goggle features a "speed strap" for quick, secure adjustment while donning. Additionally, there are two velcro tabs sewn to the back of the strap with mating adhesive backed tabs so the user can secure them to the helmet. The point where the straps attach to the goggle is hinged. This allows the wearer to even have bulky ear muffs on without distorting the front piece and causing leaks. The entire perimeter of the goggle is heavily vented and the vents are covered by deep foam to prevent debris from entering and still maintain enough ventilation to reduce fogging.