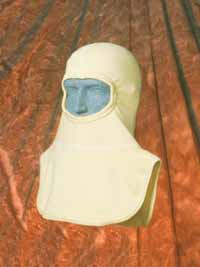 In the old days, firemen would talk of using their ears to find the source of heat in a fire. Now that we have thermal imagers, we can keep our ears safely covered. We know of no better way to keep your ears safe than to use a Majestic fire hood. While majestic makes several models of hoods, we have standardized on the PACII series. This style hood is of 2-ply, two piece construction with shoulder notches. The notches allow the hood to properly drape on the wearer rather than bunch up.
We stock the PACII hood in Nomex, PBI, and Carbon.
Nomex® material is the most cost effective. It is inherently flame resistant and does a very good job of protecting the wearer. This hood is white in color. Nomex has a Thermal Protective Performance (TPP) rating of 26.9.
PBI hoods have a characteristic brown or tan color. PBI is much stronger than Nomex but does cost more. In fact, PBI is such a strong material that it has to be blended with other materials in order to be woven into cloth. In this case, the material will be 20% PBI and 80% Lenzing FR. PBI material has a TPP rating of 27.
Carbon hoods are top of the line as well as the most expensive. The Carbon material has an astounding TPP rating of 37.4.
UL Approved / NFPA Compliant
Meets or exceeds NFPA 1971-2000 Edition and is UL Certified
Meets or exceeds Cal/OSHA Standards.