HANNAY REELS
Hannay Model EF4038-1718 Reel
This is our standard electric rewind hose reel. Standard Features include:
Stainless steel hardware
Painted finish
Rolled edge discs
1000 PSI rating
Capacity of 150' of 1" hose
41" Wide x 18.12" High x 19" deep
1" NST male outlet, 1" NPT female inlet
Hannay Model EF30-23-24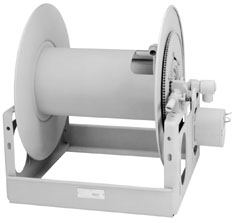 This reel has many of the same features as the reel at the top of this page but has a taller and narrower profile. It is ideal to mount on tanks in the back of pickups. Its dimensions are 34.5" Wide x 23.1" High x 24.8" Deep.