North American Fire Hose Hi-Flow 400 LDH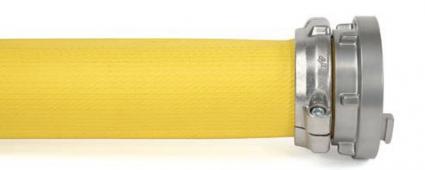 Nitrile is the key ingredient in this hose. (Click Here if you want to see the technical stuff on nitrile.) Nitrile is one of the most heavily used rubber compounds where chemical, cut, and abrasion resistance are a must. The combination of nitrile and the woven jacket result in a 1750 PSI tensile strength. Tough stuff. It won't rot or mildew.
100% synthetic reinforcement, totally encapsulated in a

Nitrile

Rubber compound utilizing a through-the-weave process.
A heavy duty rubber hose construction with good heat and chemical resistance.
The hose is made in Spain to

NAFH

specifications, and the couplings are Made in USA.
Both the hose and couplings are fully

NFPA

1961 compliant.
Available in yellow and red color only.
Hose Size
Specification Number
Acceptance Test PSI
Service Test PSI
Bowl Size
Weight per 100'

UNCPLD

4"

HF-400-LDH

400 PSI
200 PSI
4 5/16"
80 lbs.
5"

HF-400-LDH

400 PSI
200 PSI
5 5/16"
110 lbs.