Able 2 Luminator LED Mini-Bar
12.1224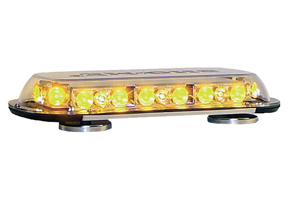 All LEDs in this mini-bar are the most up-to-date high power models for maximum light output.
Exceptionally bright light from 24 Luminator 3W LEDs with Total Internal Reflection optics.
Diffusing lenses on 18 of the 24 LEDs horizontally disperse each flash in a wide-angle pattern providing 360° of visible light. The remaining six LEDs provide concentrated frontward light.
Amber models are SAE J845 Class 1 certified.
Solid-state flasher has 12 user-selectable flash patterns.
UV-resistant polycarbonate dome with gasket.
Extruded aluminum base.
3W Luminator LEDs are available in amber, blue, green, red and white.
Magnetic-mount models have a 15' straight power cord, fused cigarette lighter plug with POWER & MODE switches, and four 90 lb.- pull magnets.
Made in the U.S.A.
Twelve Flash Patterns
| | |
| --- | --- |
| 1. | Quad Flash |
| 2. | Chase |
| 3. | Scan |
| 4. | Quad Alternating |
| 5. | Single Flash Slow |
| 6. | Single Flash Medium |
| 7. | Single Flash Fast |
| 8. | Fade |
| 9. | Crossfire |
| 10. | Quad Quad Single |
| 11. | Double Flash |
| 12. | Random |