Nomex® has been the standard shall material of fire fighting protective clothing for 30 years and continues to be a cost saver for the smaller departments that run less than 100 calls a year. Even gear made from the more exotic materials usually ends up being sewn together with Nomex®.
January of 2007 saw a big change in NFPA 1971 recommended turnout gear design. Coats made to the standards will now feature an integrated rescue harness to aid in the rapid rescue of downed firefighters. The rescuers simply have to locate the back of the coat collar to deploy a built-in, underarm sling and then drag to victim to safety.
We have also made a change by stocking turnouts manufactured by Veridian that are built to our specifications.
This gear has a shell made of 7.5 ounce Nomex. The same material that has been successfully protecting firefighters since its inception in the 1960's. In fact, most of the thermal barriers on the market also use some form of Nomex even when the shell is made of the newer exotic materials. This gear is on the low end of the pricing scale but still offers performance that exceeds NFPA recommendations.
The coats are all 35" long and matched with traditional backed trousers.
Below are just a few of the features on the gear we have in stock for immediate shipment.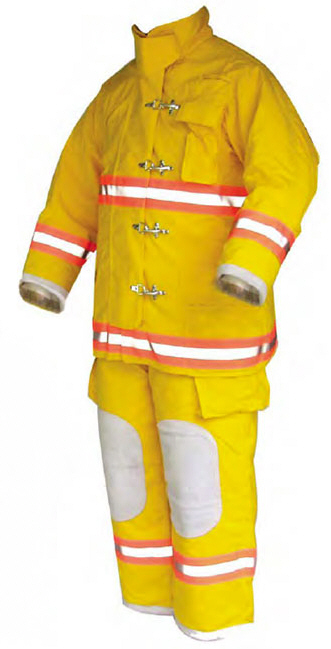 Multi-piece panel construction: Superior form, fit and function
NFPA Labeled/UL Certified. OSHA, CAL-OSHA compliant
No-rivet construction: Reduces hot spots and fabric tears
Triple Nomex-stitched stress areas: Adds durability and garment life
35" Long coat
Collar: Stand-up, multi-piece, insulated full closure protection
Throat tab: Overlapping insulated protection allows full interface with SCBA styles
Sleeve design: Two-piece built-in contoured design with leather cowhide cuffs
Shoulder: Roomy design enhances range of motion while virtually eliminating underarm tears and reducing coat rise
Outer storm flap: Extra wide for superior frontal protection; bar-tack reinforced corners. four (4) non-sparking snap hook and dee ring closures
Wristlets: Double knit Nomex/Spandex extra-long for maximum wrist protection
Metal components: All non-sparking, non-conductive, corrosion-resistant. Use is minimized to reduce heat transmission
Inner fly closure: FR Hook and Loop closure for thermal/moisture protection
Generous seat design: Triple-stitched primary seams provide added strength and comfort
Pant cuffs: Reinforced with 2" FR chrome leather cowhide
3M Reflective Trim
Radio pocket on left chest
Microphone tab above radio pocket
PASS/Flashlight tab on right chest
As you can see, this is full feature gear that we can supply your community from stock. No six month wait to get protective clothing that has all of the options you need to perform your tasks safely.
For some background on the high tech aramid and para-aramid fibers used in the construction of fire fighting clothing, here is the wikipedia entry.
If you are ever in our neighborhood, please stop by and take a close look at our turnouts. We think you will be pleased.