All of the vests and the jacket on this page can be customized for your department. See bottom of page for details or simply Click Here.
Effective November 24, 2008, under Federal Highway Administration 23 CFR Part 634, "Worker Visibility," all personnel working within the right-of-way of a Federally funded highway must wear high visibility safety apparel that meets ANSI/ISEA 107-2004 Class 2 or higher standards. This ruling applies to First Responders, Law Enforcement Officers, and Fire Fighters in addition to construction and road maintenance workers. The jackets and vests on this page meet or exceed this standard.

Bomber Jacket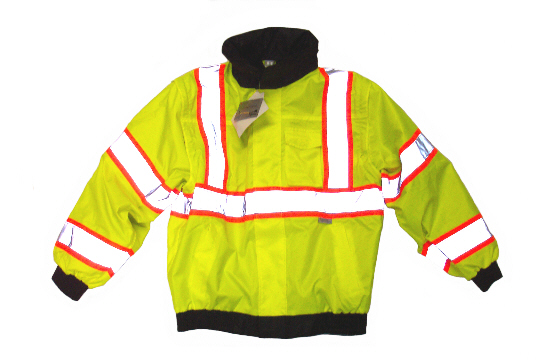 PVC Coated Polyester
Heavy Duty Zipper with Snaps on Storm Flap
Nylon Lining
Heavy Poly Fleece Removable Liner
Removable Outer Jacket Sleeves
Black Collar, Cuffs and Waistband
Two Front Pockets, One Chest Pocket
Weather Resistant Construction
Class 2 Safety Vest w/Triple Tape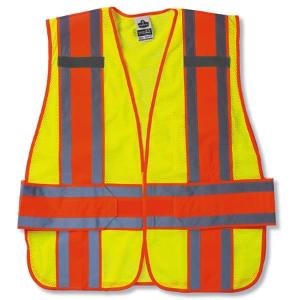 Hook & Loop Closure
ANSI-Certified Polyester Mesh (3.3 oz.)
2 x 1" Level 2 ANSI-Certified Tape w/ 4.5" Contrasting Color
Tape Specs: (2 x 1") 360°, (4 x 1") Vertical
1" Shoulder Mount Mic Clip
Pockets: One Five Division Inside
S/M, L/XL, 2XL/3XL, 4XL/5XL
Standards: ANSI 107-Class 2
5 Point Break-Away Construction to meet new NFPA 1901
CUSTOMIZE YOUR SAFETY VEST OR JACKET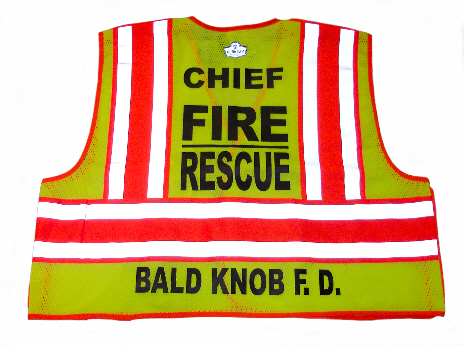 We do not charge a setup fee to print rank, function, insignias, numbers, your department name, and more on your safety vests or jackets to enhance operations. The heat applied vinyl is the same used on athletic mesh jerseys. We have black, white, red and blue vinyl in stock for fast delivery. All designs must be spot color only, process colors cannot be provided. If you need a color other than our standards there may be additional charges involved depending on the quantity.