To be honest, most of the Stingers we sell are not to fire departments but, fire department members. The guys and gals love them for their personal use. You just don't find flashlights of this quality and durability at the hardware store.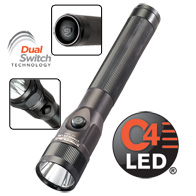 Two switches are better than one!

A powerful, long-running, long-lasting LED with an independent full-feature tailcap switch in addition to the head-mounted push-button switch. C4® LED Technology.
DUAL SWITCH TECHNOLOGY – Access any of the three variable lighting modes and strobe via the tail cap or the head-mounted switch
Head switch operates independently from the tail cap switch
The combination of a rechargeable battery and a 50,000 hour lifetime C4® LED results in the lowest operating cost of any flashlight made.
Deep-dish parabolic reflector produces a long range targeting beam with optimal peripheral illumination to aid in navigation.
Up to 24,000 candela (peak beam intensity) and up to 350 lumens measured system output
Runtime: High (350 Lumens) – Up to 2 hours; Medium (175 Lumens) – Up to 3.75 hours; Low (85 Lumens) – up to 7.25 hours; Strobe – Up to 5.5 hours
Optimized electronics provides regulated intensity
Length – 8.85 " (22.48 cm)
Weight – 12.8 oz (364 grams)
6000 series machined aircraft aluminum with non-slip rubberized comfort grip
Unbreakable Polycarbonate Lens with scratch-resistant coating
O-Ring sealed construction
C4® LED technology, impervious to shock with a 50,000 hour lifetime
3-cell, 3.6 Volt Nickel cadmium sub-C battery is rechargeable up to 1000 times
Includes Anti-roll Ring
Fits existing Stinger chargers
10 hours to recharge on 100V, 120V, 230V or 240V AC
In Stock Replacement Battery - #75175