Sardis Lake, Mississippi recently received this interface unit from us.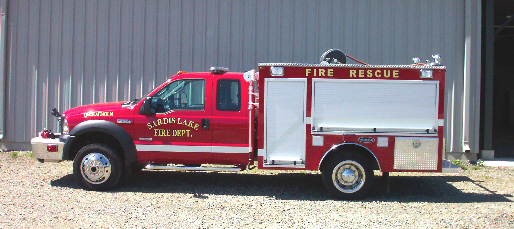 The chassis is a Ford F550, all wheel drive. The body is made from 5052-H32 aluminum plate which was formed using "brake and bend" techniques. The compartment above the rear wheels has been stretched to handle the numerous hand tools used in wild land fires.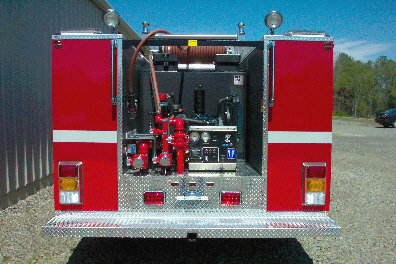 A CET pump with 21HP Kubota diesel engine and 500 gallon polypropylene water tank with integral foam cell were installed between the compartment sides. The separate engine ensures pump and roll without affecting the fire stream. With capabilities ranging from 240 GPM @ 50 PSI to 150 GPM @ 125 PSI, the unit can easily supply multiple lines. A FoamPro 1600 foam system is plumbed to the front discharge.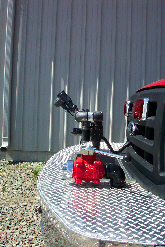 An Akron FireFox, remote controlled, 1-1/2" monitor and a 1-1/2" discharge were installed in the front bumper extension in addition to a hosewell. Since the FoamPro is plumbed to the front discharge, Class A foam can be discharged from both the monitor and the preconnected discharge. The control for the monitor is mounted in a location that can be accessed by either the driver or the front passenger.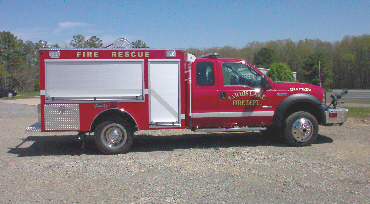 Other features include, but are not limited to:

Akron (Weldon) Diamondback LED warning lights,
Akron telescoping HID flood lights,
Akron HID scene lights,
Stainless steel Nerf bars,
ROM roll-up style doors,
Speedliner bed liner on compartment interiors,
Real Wheels stainless steel wheel simulators,
Uni-Strut in compartments for future shelving.